David Lerner REITs
DAVID LERNER AND ASSOCIATES HAS BEEN NAMED IN FEDERAL CLASS ACTIONS FOR THE SALE OF APPLE REITS.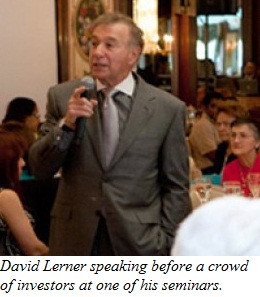 On Monday June 20, 2011, two class action suits were filed against David Lerner & Associates over its sales of Apple REITs, a family of real estate-based securities. This follows a recently filed complaint by the Financial Industry Regulatory Authority (FINRA) alleging that Lerner is misleading investors about the value of the Apple REIT Ten shares. Lerner sold $6.8 billion of the securities into some 122,600 customer accounts. The firm is a prominent advertiser on New York City radio, famous for its tagline, "Take a Tip from Poppy", and in recent years has hosted seminars drawing hundreds of investors in the Boca Raton area.
The investment products promoted by Lerner include Real Estate Investment Trusts (REITs), Real Estate Mortgage Investment Conduits (REMICs), and Collateralized Mortgage Obligations (CMOs). David Lerner has been accused of targeting unsophisticated senior citizens without considering whether the illiquid securities are suitable. If you purchased any of these products from Lerner you may have a claim for being sold these illiquid and unsuitable investments.
SHOULD YOU CONSIDER BRINGING AN INDIVIDUAL FINRA ARBITRATION?

Class actions are designed to recover damages for a group or "class" of investors who suffered losses from the same cause. Class actions generally take three years or more to reach conclusion and the typical settlement is 5% or less. An individual FINRA arbitration is generally concluded in about 12 months and the typical recovery is substantially greater than the typical class action recovery. If you feel that you have been the victimized by the sale of any of these products from David Lerner, Inc. you should contact us for a free consultation to determine if you should bring an action to recover your losses.
For more information regarding FINRA's suit against David Lerner, see the official complaint on FINRA.org.
For more information please visit RexSecuritiesLaw.com.