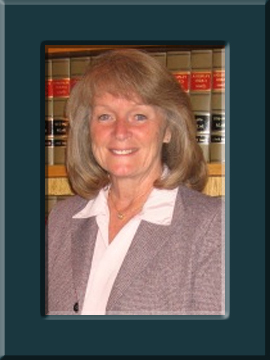 Partner
Location: Boca Raton, Florida
Phone: 561-391-1900
Fax: 561-391-1933
E-mail: bas@dmrslaw.com
Barbara A. Sloan is a member of the Florida and North Carolina Bar Associations. She attended the University of Florida and graduated from University of South Florida in 1979 with a degree in accounting. She obtained her law degree from Nova Law Center of Nova Southeastern University in Fort Lauderdale in 1984.
Mrs. Sloan practiced as a Certified Public Accountant in Port Charlotte, Florida and in Fort Lauderdale, Florida in the areas of tax preparation and auditing; and worked as a Senior Tax Consultant in Greensboro, North Carolina where she performed tax consulting and planning for corporations, their officers and shareholders and affluent individuals. She was also a contract attorney in Winston Salem, North Carolina, where she reviewed all aspects of document retrieval for relevancy in a complex litigation case.
Mrs. Sloan has been with the law firm of Dickenson, Murphy, Rex & Sloan in Boca Raton, Florida since 1989 where she specializes in estate and tax planning, including Wills, Trusts, Irrevocable Life Insurance Trusts, Generation Skipping transfers, lifetime gifting, estate, probate and trust administration, including Agreements among Beneficiaries, Disclaimers, Post Mortem Planning, 706 preparation and review; and also income, estate and gift tax law areas.
Mrs. Sloan has been active in the Boca Raton Estate Planning Council and the Atlantic Chapter of Certified Public Accountants having served as president of the board of both organizations.
Areas of Practice:
Estate Planning
Probate Administration
Trust Administration
Certified Specialties:
Certified Public Accountant, Florida, 1980
Bar Admissions:
Florida, 1985
North Carolina, 1986
Education:
Nova University Center for the Study of Law, Fort Lauderdale, Florida
J.D. – 1984
Florida University of South Florida, Tampa, Florida
B.A. – 1979
Major: Bachelor of Arts in Accounting.
University of Florida, Gainesville, Florida
Professional Associations and Memberships:
South Palm Beach Bar Association
The Florida Bar, Real Property, Probate and Trust Law Section, Member
North Carolina State Bar, Member
Florida Institute of Certified Public Accountants
Atlantic Chapter of Florida Institute of Certified Public Accounts: Board of Director, 1987 – 1997, President, 1995.
Greater Boca Raton Estate Planning Council, Member, Board of Directors, 1987 – 1997
Greater Boca Raton Estate Planning Council, President, 1996 – 1997
Paralegal
Lois has worked in the legal field since 1986. She gained extensive experience working with Mrs. Sloan since 1991 in the area of estate planning and probate/trust administration.
Lois completed the Paralegal Certificate Program at Florida Atlantic University and has been registered by The Florida Bar as a Florida Registered Paralegal since 2009. She has an innate attention to detail and works hard to help individuals and families understand the estate planning and probate process.